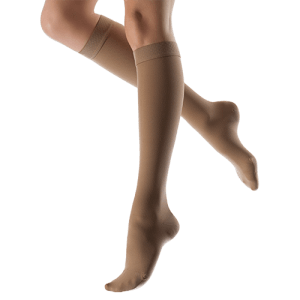 Applied Biomechanics is happy to announce that we are now Certified Fitting Specialists and a local distribution partner of Venosan Compression Stockings. We are the answer to all of Guelph's compression stocking needs. Compression socks are excellent for travellers who want to avoid swollen legs on planes or for those on their feet at trade shows all day. They will help you avoid that tired ache when you get home.
"But wait! I don't want compression stockings, my Grandma wore compression stockings!"
These aren't your Grandmothers compression stockings. Check out our men's and women's fashion lines. No one will realize these compression stocking are even there.
For those that need a little bit extra for treatment of poor venous return, diabetes, varicose veins, etc., we also have medical grade compression stockings. These can be prescribed by your doctor and we will take a series of measurements to ensure that they fit perfectly. For those with any unique anatomical shapes, we can also have custom stockings made just for you.
Attention athletes: We also have something for you. Venosan has a collection of ReSOXX athletic compression products. An increase in venous return means faster removal of lactic acid and other metabolic byproducts. This can also help improve recovery time post-race.