Leg, Ankle and Knee Braces in Guelph
Custom orthopedic bracing solutions for ankle, knee & leg injuries and arthritis.
Orthopedic Leg Braces For Adults
Suffering from conditions such as a torn ACL can cause tremendous discomfort and lack of mobility.
Surgery to get you back up and moving can take months of waiting and result in an even more extended recovery period, while poorly fitted leg braces can even worsen your condition.
That's why at Applied Biomechanics, we offer custom-fitted braces that provide safe and effective knee support to reduce pain and get you back on your feet quickly.
Contact our team today to get the support you need.
Are Custom Leg Braces A Substitute For Surgery?
Our leg braces reduce pain and increase mobility for a range of leg injuries, but they are not a substitute for surgery. 
If you have been advised to undergo surgery, a leg brace may help to increase your post-surgery recovery time by supporting your knee during the healing process. Speak with your physician to see if an AFO leg brace or AFO knee brace can help your post-operative recovery.
Can I Get A Prescription For An Ankle or Knee Brace?
Typically, your physician will provide you with a referral after carrying out tests such as MRIs or CT scans to assess your condition. Alternatively, if your medical practitioner cannot provide a diagnosis for your injury, they can refer you directly to us for assessment.
If the results of your tests show that a knee brace is suitable for your condition, your medical practitioner may prescribe an orthopedic leg brace.
We always recommend seeking medical advice from your physician for any health issues, but you can also speak to us directly and come in for a consultation.
How Long Do I Need To Wear Leg Braces?
Each case is different, but for your ankle or knee brace to provide the maximum benefit, you will need to commit to wearing it as a long-term treatment plan.
However, with less severe injuries such as sprains, you may need to wear our bracing for a shorter time period.
It's important to understand that our braces improve your quality of life but do not cure conditions – regardless of short-term or long-term use.
The custom-made bracing we offer at Applied Biomechanics greatly assists mobility and reduces pain for several conditions; however, they will not permanently rectify your condition.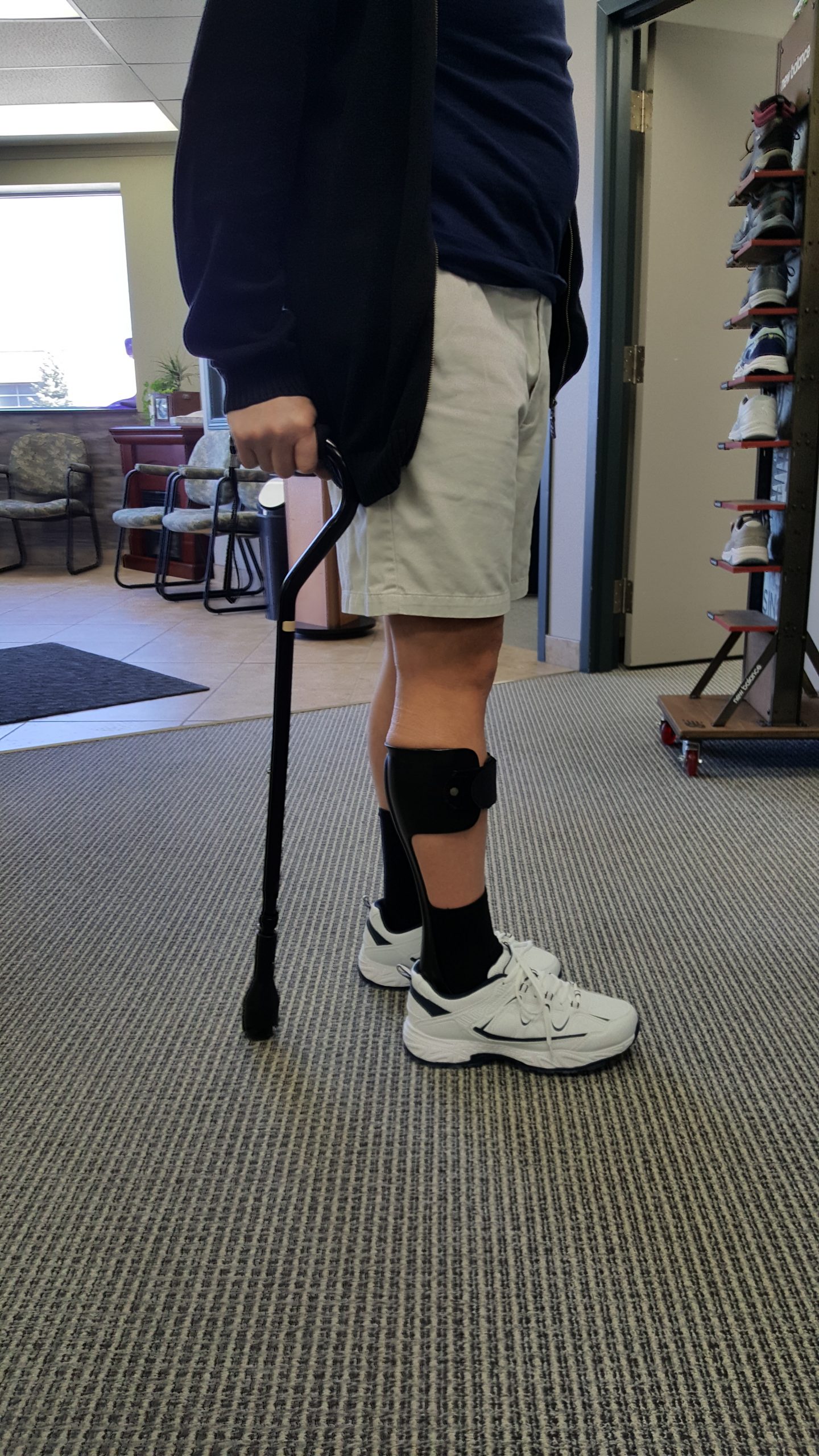 Ankle Foot Orthosis (AFO)
Ankle foot orthoses (AFOs) are ankle support braces used to provide stability, decrease pain and increase mobility for a number of different neuromuscular and musculoskeletal issues.
We use a variety of different designs for ankle bracing that take into consideration your medical and personal needs. When ankle braces like these are required, they are custom-made to support your body. We use the most up-to-date and high-tech components and materials in order to enhance your current level of mobility and independence.
Ankles braces (AFOs) are prescribed and custom fit to aid in the treatment of the following conditions:
Stroke

Brain Injury

Spine and Nerve Injury

Charcot Marie Tooth (CMT)J

Multiple Sclerosis

Posterior Tibial Tendon Dysfunction (PTTD)

Joint Injury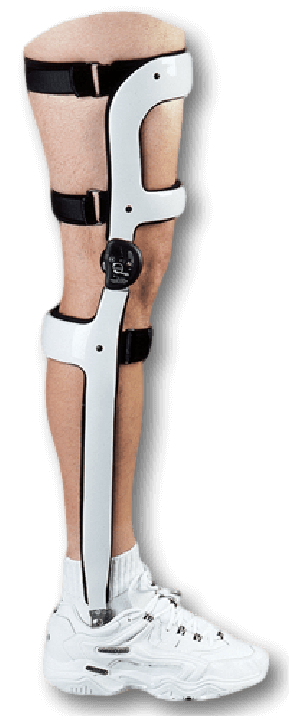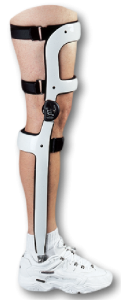 Knee Ankle Foot Orthosis (KAFO)
Knee ankle-foot orthoses (KAFOs) are used when there are significant muscular deficits within the thigh or significant pain at the knee that is not managed with an ankle brace (AFO) or knee brace.
Common issues that can be addressed with a KAFO are:
Nerve Injury

Quadriceps muscle weakness

Polio

Severe instability of the knee secondary to injury and arthritis.

custom arthritis knee bracing Guelph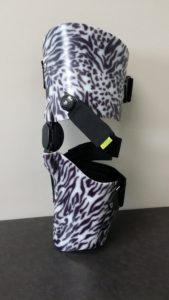 Custom Knee Brace For Arthritis
For knee arthritis (including meniscus or cartilage damage), an "Unloading" or "Load Shifting" custom knee brace is commonly prescribed. This type of brace shifts the load from the damaged or arthritic part of the knee onto a healthy portion of the knee. Many of our clients who suffer from arthritis are surprised and overjoyed to move and walk with little or no pain after being fit with an arthritis knee brace.
To design a custom knee brace, a cast or laser image of the leg is taken while the knee is adjusted into a position of better comfort and function. The brace is then built on this custom form made from the leg. The arthritis knee brace is adapted to provide the desired unloading forces at the fitting appointment.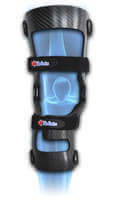 Custom Knee Brace for Ligament Injuries
Custom knee braces are also used to treat injury to one or more of the four major ligaments of the knee (ACL, PCL, MCL and LCL).  They can include various knee joint configurations, materials and strap designs depending on the specific ligament injury and activity that the custom knee brace will be used for.
FAQ
Will Knee Bracing Make My Knees Weaker?
No, it's a misconception that wearing a brace weakens your knees. 
Unlike wearing a cast that specifically keeps broken bones in place so they can heal, bracing does not restrict movement and so doesn't cause your muscles to atrophy.
In fact, our braces support you in staying mobile and active and therefore contribute to maintaining a healthier lifestyle overall.  
Will I Become Dependent On The Brace?
How much (if any) dependence you develop on a brace is very much down to your particular set of circumstances.
Factors such as age, the type of damage to your knees, your job and your lifestyle all contribute to your long-term prognosis and whether or not you continue to rely on a brace to get by.
Should I Sleep With My Orthotic Brace On?
There's no benefit to wearing a brace while sleeping, so you should take off your at night. 
We recommend doing this for your own comfort, but also because continuously wearing a brace can restrict blood flow or lead to developing a sore.
Get the support you need.