Applied Biomechanics is proud to announce that once again we have partnered with our friends at the Speed River Track and Field Club for the annual Speed River Inferno Track & Field Festival! We have been seeing their athletes over many years for injury treatment, prevention and performance-related biomechanical challenges. We are continually inspired by the grass roots efforts that Dave, Chris and the rest of the team have put in to create Canada's top running club and make Guelph Canada's fastest city. They promote healthy, active lifestyles, in a welcoming environment, while also producing athletes of international standards.
The Speed River Inferno is a two-day track and field competition including events for youngsters, community members, and professional athletes. The festival provides something for everyone. You can learn more about the events on their website, or buy tickets by following this link.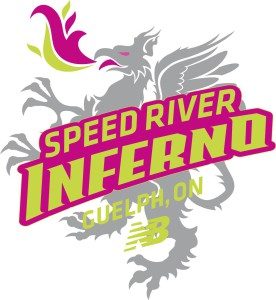 The festival kicks off on Friday, May 29th at 12:30pm with the Scotiabank Track and Field Experience, which engages 200 kids from Guelph schools to come to the Alumni Stadium and learn from former track and field stars. At 7:30pm on the same day (May 29th), folks of all ages get a chance to participate in the Downtown Road Mile through the scenic core of downtown Guelph. The race starts and finishes outside City Hall, and it will be followed by a kid's 100 meter race.
The real highlight of the festival is the Speed River Inferno Track and Field Meet at Alumni Stadium, on Saturday, May 30th at 7:00pm. This European-style track meet will feature Olympians and athletes from over 15 countries, tying up the festival with a great example of international-level competition. If you're trying to give a young runner something to aspire towards or just looking to be a spectator, this is a great opportunity! Also, don't miss the Fan Fest, starting at 5:00pm on Saturday, which includes live music and activities for all ages.
Tickets for this event are on sale in Scotiabank locations, online or at the gate. Remember that entrance purchased for the Downtown Road Mile race also come with free admission to the Inferno Track & Field Meet on the Saturday. Children under 8 receive free admission.